Image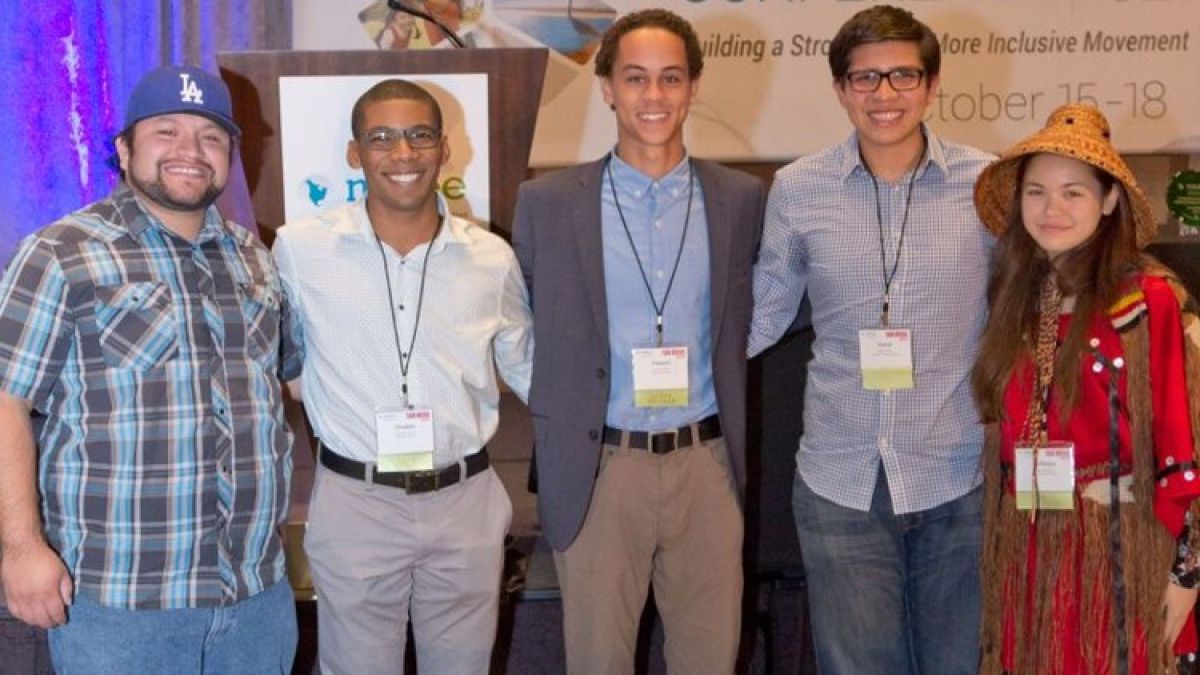 Category
Message from the Executive Director
Oh, honey, he's teasing you. Nobody has two television sets.
--Stella Baines, Back to the Future
Since when can weathermen predict the weather, let alone the future?
--Marty McFly, Back to the Future
Back to the Future
As the media goes crazy celebrating the anniversary of "Back to the Future," I'm thinking of what the world will be like when the four young people on the closing plenary of our 44th annual NAAEE conference are in charge. These panelists spoke with such poise, professionalism, and passion that they gave even the most world-weary among us a huge dose of hope. You could have heard a pin drop as these up-and-coming leaders talked about their dreams, concerns, and ideas. As I think about what our future will look like, I see young people like these four in leadership positions, doing everything in their power to create a more positive future that "gets" the intersection of environmental quality, social equity, and shared prosperity.
These panelists capped a terrific week in San Diego. Starting with our young hip hop dancers in pink NAAEE tees, who kicked off opening night, alongside a warm welcome from Jack Johnson, to all our well-deserving award winners, our distinguished plenary speakers, our amazing presenters, to our exhibitors, all our first-time attendees, our global participants, to each and every sponsor who supported our collective effort, and to our more than 1,000 participants—it was an inspiring event! For all of you who attended, I can't thank you enough for being present and engaged, delivering such quality sessions, and supporting NAAEE and the field of EE.
I was so excited to see how the hard work of the diversity, inclusion, and equity group helped shape the conference and is continuing to help advance our organization and the movement to diversify and strengthen our field. I'd like to extend a big thank you to Darryl Ramos-Young, Raquel Pinderhughes, Anne Marie Tipton, and the entire team—as well as all of you who are committed to integrating diversity and inclusion into your work.
The tweets and posts from so many of you highlighted the wonderful sessions, memorable moments (both powerful and light-hearted), field trips, discussions, and more. And several of you mentioned that the conference helped you consider new strategies for approaching the many "wicked" issues we are facing in this movement—from how to address the enormity of climate change to finding strategies that allow access to quality education for all.
For those who couldn't be with us, please visit NAAEE's Facebook page to see the photos of our time together in San Diego, as well as our Storify page highlighting photos, tweets, and posts from our attendees!  
Here are a few stats from the week:
More than 125 volunteers helped with every aspect of the conference
More than 25 countries were represented at the conference
More than 170 participants received conference scholarships
There were more than 450 sessions, including roundtable discussions, symposia, hands-on workshops, posters, bright spots, and traditional presentations
More than 175 researchers from around the world attended the 12th annual Research Symposium
We Want Your Feedback
We want to make sure that every conference is the best it can be. Please take a few minutes to fill out an online survey and let us know what you think about the conference and what you'd like to see in the future. Just click on https://www.surveymonkey.com/s/NAAEE2015
And thanks to all of you who helped provide feedback on the new website. We are compiling all the comments and will be working to integrate them into the new site. We hope to launch the new naaee.org, including eePRO, by January. So be on the lookout—and thank you for being so thoughtful and honest.
It Takes the Globe
To pull off a conference like this, we needed help from every corner of the world. A big thanks to our colleagues from EPA Taiwan and U.S. EPA for supporting the Global Environmental Education Partnership (GEEP) meeting and to all of our global participants. And many thanks to our outstanding co-chairs (Lori Kiesser and Pam Johnson), our research symposium organizers (Cat Stylinkski and Ruth Kermish-Allen), all of our committee chairs and members, our strand leaders and proposal reviewers, our Board of Directors, led by Pepe Marcos-Iga, our Board Chair, our new Advisory Council, and our entire staff, which is the most incredible team you could hope for. And I want to thank our special honorary team members—Alicia Dimaio and Rob Stewart—who gave generously of their time and talents and added so much to the conference. We couldn't have done it without them.
Thanks, too, to our amazing line-up of keynote speakers and special guests, which you can find by clicking here. We will be posting recordings of the keynote presentations for those who couldn't attend. And I especially want to thank our conference sponsors, who contributed money, time, and in-kind products to help make the conference a success. Please visit our sponsor page (need a link) and let them know you appreciate their support for for environmental education and the work they all do. And for those of you who received a scholarship, we'd love to hear from you with thoughts about what it meant to attend. It will help us raise money for next year so more people can attend future conferences
Congratulations to Our Award Winners!
I'm very thankful that each year at the conference we can recognize some of the outstanding people in this field who are changing lives and communities through their work. Please check out all the winners and their bios at naaee.net/programs/awards.  And join me in congratulating Kay Antunez, our 2015 Jeske Award winner, for an outstanding career that spans three decades.
Madison Next October
As we start thinking ahead to Madison, Wisconsin, I would again like to extend a challenge to all of you: help us raise more scholarship funding so that anyone who wants to come to the conference can make it. I'm sure those of you who were in San Diego could see the difference it made in bringing so many new people to the conference. As those of you who run conferences know, the conference centers and hotels are very expensive, and we are continually searching for ways to cut costs and keep registration fees reasonable while putting on a high-quality conference. But the costs are still beyond the reach of many in this field. I think we can double or triple the scholarship funding available if we work together. If your organization or a business in your neighborhood would be willing to pay for one extra person to come to the conference, it can open the doors to a great professional development opportunity for so many.
Be on the lookout for more information about Madison and the 2016 Call for Presentations. And please contact conference manager Lori Mann (lori@naaee.net) if you're interested in volunteering on one of our conference committees.
As I said during my opening remarks, I truly believe in the power of education and feel that it can provide people of all ages with the tools, strategies, access, and ideas that can help us address the challenges of our time. And I also believe that the collective spirit of the NAAEE family and the work that all of you do creates a more hopeful future for all.
With thanks to all of you,
Judy Braus
NAAEE Executive Director
Yeah, well, history is gonna change.
--Marty McFly, Back to the Future
If you put your mind to it, you can accomplish anything.
--Marty McFly, Back to the Future